Want to successfully bake gluten-free recipes? Follow these five tips for gluten-free baking to be a pro baker in no time!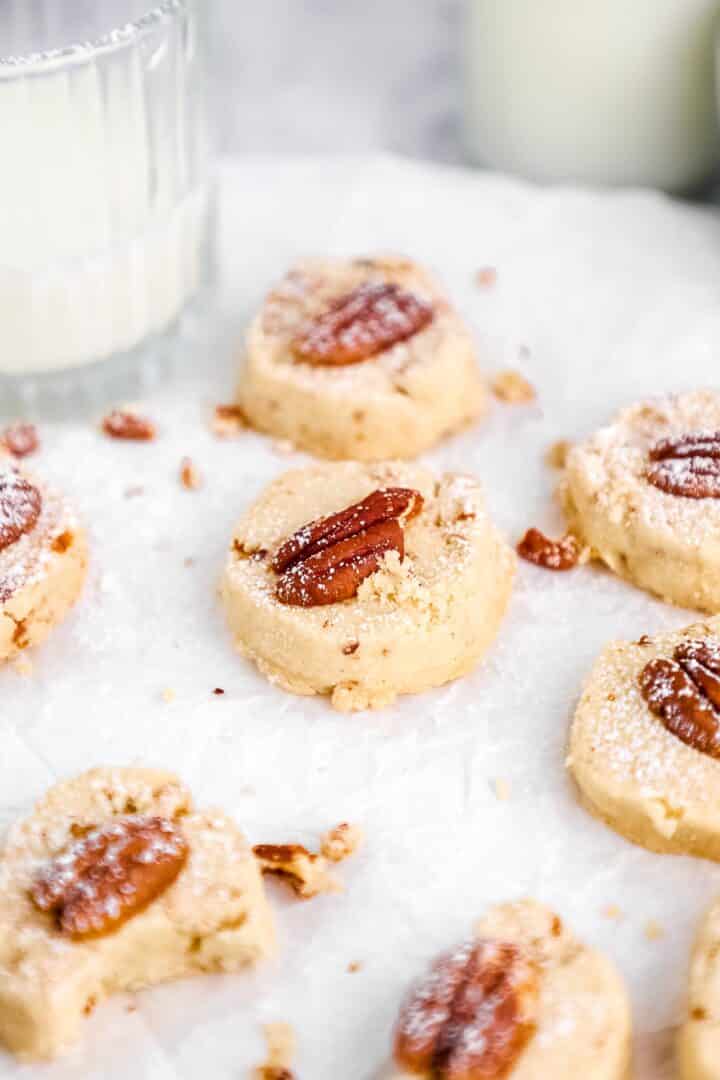 Jump to:
What to Expect with Gluten-Free Baking
Sometimes gluten-free baking can go awry, even for the most skilled bakers who are used to regular baking. I found it tough to transition to gluten-free baking after years of baking successfully with regular flour and ingredients.
But, if I have the baking skills, you have the baking skills, too! In no time you'll be making gluten-free quick bread, gluten-free dark chocolate brownies, and crispy cookies. Just be sure to avoid any cross - contamination.
Whether you have celiac disease, gluten intolerance or an autoimmune disease, you're probably looking to bake some gluten-free versions of your favorite recipes like gluten-free cakes. Luckily, I've gathered some gluten-free baking tips for baking with gluten that will help you. Follow my five tips to get delicious, moist, and perfect treats straight out of the oven every time.
Keys to Baking Gluten-Free Successfully
Rest the batter
Some gluten-free batters, like muffins, gluten-free cake batter, and gluten-free bread, can benefit from resting in the fridge for at least 30 minutes before baking. Sometimes I rest the batter overnight for the best results. Resting the batter helps the starches in gluten-free flour blends soak up the moisture, which gives the final product more hydration and structure. This tip isn't necessary for traditional baking, so it might be new to you!
Baking Temperature Matters
Did you know gluten-free baked goods tend to brown faster than traditional baking recipes? It's true, but gluten-free flour also takes a bit longer to cook through so pay attention to the baking time. So, you need to bake your treats for a longer time at a lower oven temperature for the best results. When reading a gluten-free recipe, always follow the recipe notes for cooking time and baking temperature. Most ovens are a bit unreliable when it comes to oven temperature, so I recommend getting an oven thermometer for the best measurement of baking temperature.
Chill
When making gluten-free cookies, ALWAYS chill the cookies unless the recipe says otherwise. In most cases, chilling the cookies prevents the cookies from spreading too much. Chilling firms up the butter, so the cookies have more shape. I have a few cookie recipes that don't require chilling, so always follow the recipe instructions. There is no need to chill the batter when making gluten-free cakes.
Choose your gluten-free flour carefully
The gluten-free flour blend has a huge impact on the way a gluten-free baked good turns out. Some gluten-free flours can produce a really dense cake with a grainy texture instead of a fluffy texture or a cookie with a mushy texture. For example, if the flour blend doesn't contain xanthan gum, then you'll most likely have a problem.
Most recipes for gluten-free treats will specify which gluten-free flour to use, and I always suggest following the recipe. Some recipes require NO xanthan gum, like my gluten-free focaccia, so it's always important to read the gluten-free flour label.
Oat flour, almond flour, coconut flour, and other alternative flours are not a 1:1 substitute for a good gluten-free flour blend. Alternative flours like almond flour, coconut flour, and almond meal do not absorb moisture as well, so substituting is not a great idea.
Also, don't forget to mix all your dry ingredients like baking powder, salt, baking soda, and spices before mixing with any wet ingredients. Baking powder needs to be mixed with flour first for a successful baked recipe.
Moisture, moisture, moisture
Gluten-free flour absorbs more moisture than regular flour, so most recipes account for that by adding more liquids like eggs, milk, and butter. Gluten-free flour is made from a combination of gluten-free ingredients like tapioca flour, tapioca starch, brown rice flour, white rice flour, potato starches, and millet flour. Those ingredients soak up a lot more moisture than regular flour.
Gluten-Free Products I Love
Gluten-free baking is just as fun as traditional baking with these 5 tips. Check out my favorite brands of gluten-free flour below for baking recipes.
Gluten-Free Baking Recipes
If you're ready to dive into gluten-free baking and test your baking skills, take a peek at some of my gluten-free baking recipes like my chocolate chip cookies! Also, if you have a traditional recipe that you'd like converted into gluten-free food, send me a message.