One of the things I missed most after going gluten-free was breakfast cereal. All my favorite brands had gluten (which is partly why I always had a migraine), so I had to find some delicious organic gluten-free cereal brands to eat!
Many common cereal brands like General Mills are starting to cater to the gluten-free diet. This makes it a lot easier to find gluten-free cereals at grocery stores! Remember to always check for a gluten-free label on gluten-free products before purchasing. Because the main ingredient in many kinds of cereal is wheat flour, wheat starch, malt flavoring, or oats, it's so important to know what brands don't typically use gluten-containing ingredients. Arrowhead Mills, Bob's Red Mill, and Nature's Path typically use gluten-free oats and make some of the best gluten-free cereals.
Whether you have celiac disease or gluten intolerance, these cereals are safe for you to consume. I rounded up my five favorite gluten-free kinds of cereal so you can stock up next time you're at the store! I promise you won't even miss Cinnamon Toast Crunch, Fruity Pebbles, and Cocoa Pebbles after trying these awesome options!
Jump to:
Corn, rice, quinoa, flax, buckwheat, and amaranth create a delicious, crunchy medley perfect for your morning cereal bowl. The vanilla cereal has a great texture that is similar to cornflakes. The mix has 3 grams of fiber, and 12 grams of whole grains, and is completely gluten-free and wheat free. All Nature's Path products are USDA organic, non-GMO, and free from animal products. Top with some bananas, peanut butter, and almond milk for a high-protein breakfast. This cereal is a great option that I can usually find at a local grocery store.
Rice Krispies fans, rejoice! I have found a great substitute for the delicious, crackly cereal. These brown rice crisps taste just like Rice Krispies, but don't contain any gluten. The rice crips are USDA Organic Certified, and Non-GMO. There are only 2 grams of sugar per serving. However, be aware that these rice crisps are manufactured in a facility that also manufactures wheat and peanuts.
I think granola is a type of cereal, but some people disagree. Wherever you fall on the granola cereal debate, there's no debating that this ancient grain granola is absolutely delicious! The granola is made with nutrient-packed quinoa, amaranth, and chia seeds for light & crunchy texture. Purely Elizabeth uses coconut sugar to lightly sweeten the granola so that doesn't make you feel sluggish, and the granola is certified gluten-free, vegan, and non-GMO. This gluten-free granola is also a great snack (I sometimes eat it straight from the bag).
These organic cornflakes taste the exact same as classic cornflakes, except they're slightly sweetened with organic pear juice. The flakes are Certified Gluten Free, Non-GMO Project verified, Certified USDA Organic, vegan, and kosher, made with nutritious, simple ingredients. None of our products contain any artificial flavors, colors, or preservatives. Be aware, the product is produced in a facility that also produces wheat-based products. Try adding some apples and cinnamon for apple cinnamon cornflakes.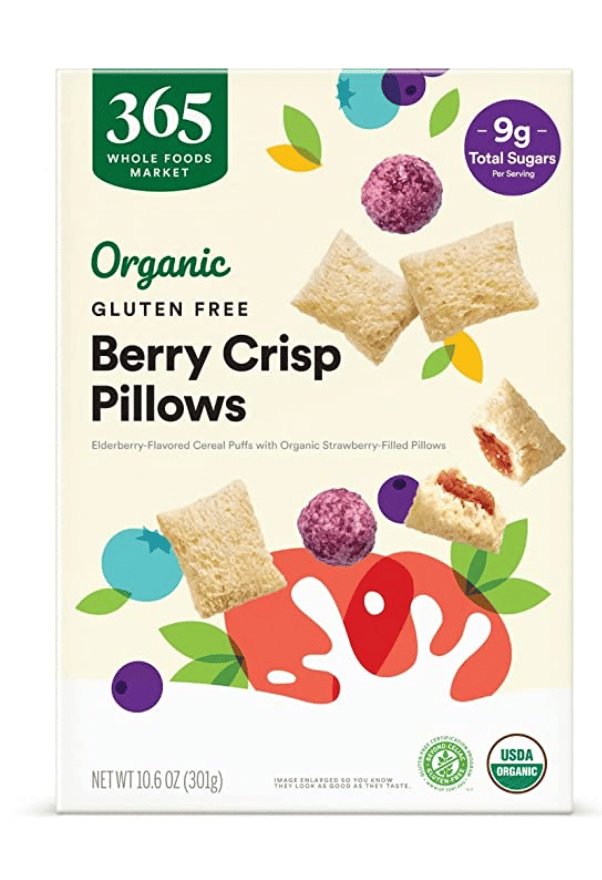 Whole Foods has many fabulous gluten-free options, including this berry crisp pillow cereal. The pillows taste just like mini Wheaties cereal. The cereal is made with a blend of organic rice flour, organic corn flour, and organic oat flavor.
Gluten-Free Cereal FAQ
Is puffins cereal gluten-free?
Puffins Honey Rice Cereal and Puffins Multigrain Cereal are gluten-free, but other varieties are certified gluten-free due to the oat flour contamination. To read more about each flavor and its allergens, click https://www.barbaras.com/.
Is pops cereal gluten-free?
Kellogg's Pops are not gluten-free because they contain wheat. Check out the full ingredient list HERE.
Is Magic Spoon cereal gluten-free?
Yes, all Magic Spoon cereal flavors are gluten-free. Find the full line HERE.
Is Life Cereal gluten-free?
Life Cereal is not gluten-free. It contains wheat and wheat-contaminated oats. Read all the ingredients in life cereal HERE.
Is Honeycomb Cereal gluten-free?
No, Honeycomb Cereal is not gluten-free. It contains wheat and oats. Read the ingredient list HERE.
Is Chex Cereal gluten-free?
Chex Rice cereal is gluten-free, but other varieties like Wheat Chex are not gluten-free. Read more about Chex cereal HERE.
If you're ever unsure about a product when shopping, download the Spoonful app. I use it all the time to scan barcodes quickly. Don't forget to follow me on Instagram for more gluten-free tips!