What's more fun than Funfetti frosting?
Funfetti vanilla buttercream frosting is a delicious treat that everyone loves made with REAL butter. It's also a lot easier to make than you might think. This is a twist on a classic vanilla buttercream. Colorful sprinkles buttercream is the perfect frosting for birthdays, holidays, and even just because!
This is one of my favorite recipes! And, this recipe calls for really simple ingredients. If you want to learn how to make funfetti buttercream frosting, keep reading. I'll teach you how to make this delicious frosting in just 5 minutes using powdered sugar!
A Note on Butter
A lot of people are afraid of butter. There's this myth out there that butter is terrible for you! But that's not true at all. In moderation, butter has so many benefits.
The Benefits of Butter
Vitamin D, which is beneficial for bone growth, development, and mental health.
Calcium, which prevents osteoporosis.
Healthy fats like conjugated linoleic acid that benefit the skin and can regulate weight.
Beta-carotene, which lowers the risk of macular degeneration and other eye-related problems.
Vitamin A, an important vitamin for a healthy thyroid, hormone production, and regulating sleep.
Butter substitutes are made with saturated oils and a bunch of random ingredients that include food coloring, soy, and palm oil. Butter is made with only two ingredients: cream and salt (unless you're using unsalted butter).
For more information on the benefits of butter, click here.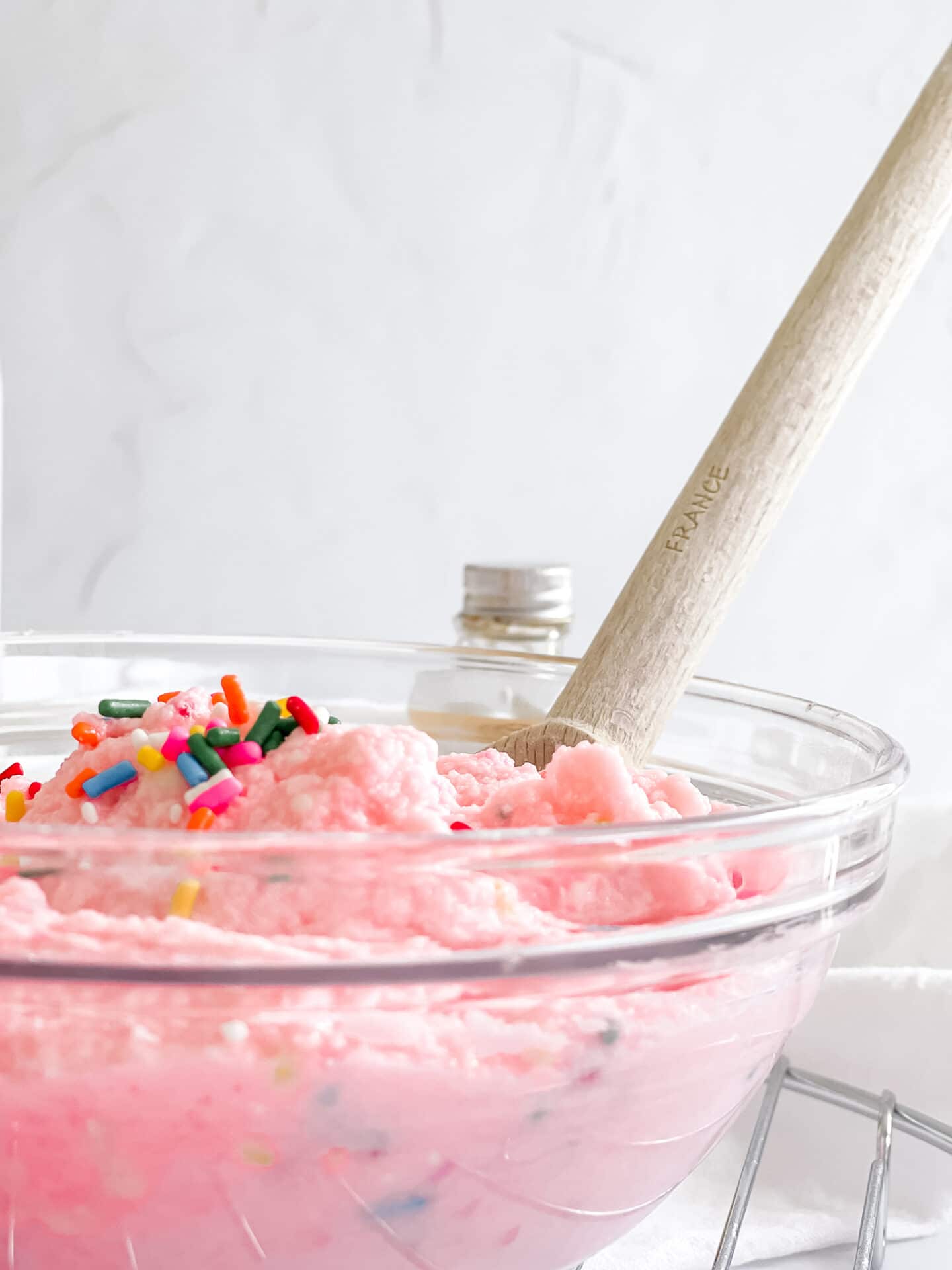 Recipe Notes
Key Ingredients
Wet Ingredients:
Vanilla Extract (or vanilla bean paste)
Unsalted Butter
Milk, Heavy Cream, or Water
Dry Ingredients:
Powdered Sugar
Funfetti Sprinkles
¼ teaspoon salt
Recipe Tips
My recipe calls for two teaspoon vanilla extract, but you can halve that. I prefer a strong vanilla taste. If you have only almond extract, that would be delicious, too.
Slowly beat the buttercream with a handheld or stand electric mixer at first before accelerating to medium speed. Before taking the speed to medium, take 1-2 minutes to slowly mix the buttercream frosting. This gives you that fluffy consistency.
Use a whisk attachment instead of a paddle attachment.
Use a rubber spatula to scrape the sides of the bowl.
If you can't find funfetti sprinkles, any rainbow sprinkles will work.
A pinch of salt brings out the vanilla flavor. Try not to skip this ingredient.
This recipe only takes a couple of minutes to put together, so there's no need to buy frosting from the store. 
Feel free to add extra sprinkles.
Common Questions
What are Funfetti sprinkles?
Funfetti sprinkles are small sugar crystals. They add a nice touch of sweetness and color to cakes and baked goods.
What is Funfetti Buttercream Frosting?
Funfetti Buttercream frosting is simply a creamy, rich vanilla buttercream with funfetti sprinkles. Some people like to add sour cream into their buttercream frostings, but I don't like the taste of sour cream, especially in baked goods. I've also seen recipes for buttercream frostings using greek yogurt, but I don't recommend that.
Powdered Sugar Vs. Granulated Sugar
It's important to use powdered sugar instead of granulated sugar. Powdered sugar has larger particles than granulated sugar. That means it will dissolve faster when mixed into liquids like milk or water. You can find powdered sugar at most grocery stores.
Can I make this frosting in a food processor?
No, not really. A food processor won't give the frosting the same texture and whip that an electric mixer will. The buttercream frosting will be denser if you use a food processor.
Can I Use Any Kind Of Sprinkles in Funfetti Frosting?
Yes, you can use any kind of sprinkles in funfetti frosting. However, then it won't really be funfetti frosting!
How Much Cake Will This Frosting Recipe Cover?
The frosting recipe will cover about two 9-inch round cake pans.
How Long Does Homemade Frosting Last?
Homemade frosting lasts for about 2 weeks in the refrigerator. If you want to use homemade frosting, store it in the refrigerator in an airtight container.
What Should I Frost With This Frosting?
This frosting can be used to cover cakes, cupcakes, cookies, pies, and other baked goods. I love making Funfetti Cupcakes with this buttercream. The best way to frost a cake is to use a pastry bag fitted with a star tip. You can also use a frosting spatula on a frosted cake. The ultimate combination is a Funfetti cake with funfetti buttercream frosting. But, any cake with vanilla buttercream is delicious!
How to Decorate Cakes and Cupcakes with Buttercream
There are lots of piping tips that you can use to get different designs and finishes. For a simpler method, just use a frosting spatula. To decorate cakes and cupcakes with buttercream frosting, first, prepare the cake. Then, cut the cake into layers using a serrated knife. Next, place one layer on a serving plate and spread a thin layer of buttercream frosting on top. Repeat this process until all the layers are covered. Finally, add decorations such as sprinkles, candies, or other toppings.
How to Add Color to Buttercream Frosting
If you aren't able to find any sprinkles, you can dye the buttercream using soft gel food coloring. Soft gel food coloring is my favorite kind of food coloring to use! The color always turns out beautifully, and it's easier to control the hue.
Can I Double This Recipe?
Yes! Use 1 cup butter (2 sticks) instead of ½ cup butter. Just make sure you're using a big bowl if you choose to double the recipe. Normally, I use a medium bowl for making this recipe. If you're doubling the recipe, use a large mixing bowl.
Common Buttercream Problems
How to Rid Vanilla Buttercream Air Bubbles
To remove air bubbles from vanilla buttercream, use a piping bag fitted with a tip. Fill the bag with frosting, then pipe onto the cake.
How can I change the stiffness of the buttercream frosting?
The best way to soften the frosting is to add some butter. If you don't want to use butter, you can also try adding water. If you want a stiffer consistency, add more powdered sugar.
Funfetti Vanilla Buttercream Frosting
Funfetti vanilla buttercream frosting is a delicious treat that everyone loves made with REAL butter. It's also a lot easier to make than you might think. This is a twist on a classic vanilla buttercream. This colorful sprinkles buttercream is the perfect buttercream frosting perfect for birthdays, holidays, and even just because!
Ingredients
3

cups

confectioners sugar

powdered sugar

1

Cup

unsalted butter

1 stick

¼

teaspoon

salt

or a pinch of salt

2

teaspoons

vanilla extract

can halve to 1 teaspoon vanilla extract

2

tablespoons

milk

water, or heavy cream
Instructions
Make sure the butter is at room temperature.

Beat butter on medium high speed for 1-2 minutes.

Add in confectioners sugar slowly on low speed until all the sugar is added.

Add in 2 teaspoons vanilla extract and a pinch of salt.

Beat on medium high speed for another 1-2 minutes.

Add in milk, water, or heavy cream depending on your preferred consistency.

Enjoy!