When I saw Matilda Djerf's birthday tart on Instagram, I knew I had to recreate it. It's actually very simple to make!
Don't forget to follow me on Instagram, Pinterest, TikTok, and YouTube🙂
This recipe is great for a summer party or any birthday party.
I referenced my recipes for lemon meringue pie and my easy, GF pie crust to make this lemon tart.
Jump to:
Ingredients
See recipe card for quantities.
Instructions
Make the pie crust according to instructions. Use a tart pan with a removable bottom instead of a pie pan. Let the crust cool completely.
Make the lemon curd according to the recipe HERE.
Fill the cooled crust with lemon curd and bake in the oven for 15 minutes at 350 degrees. Take it out of the oven and cool completely.
Make the lemon meringue according to the recipe HERE. Fit a pastry bag with a piping tip of your choice. Fill with meringue.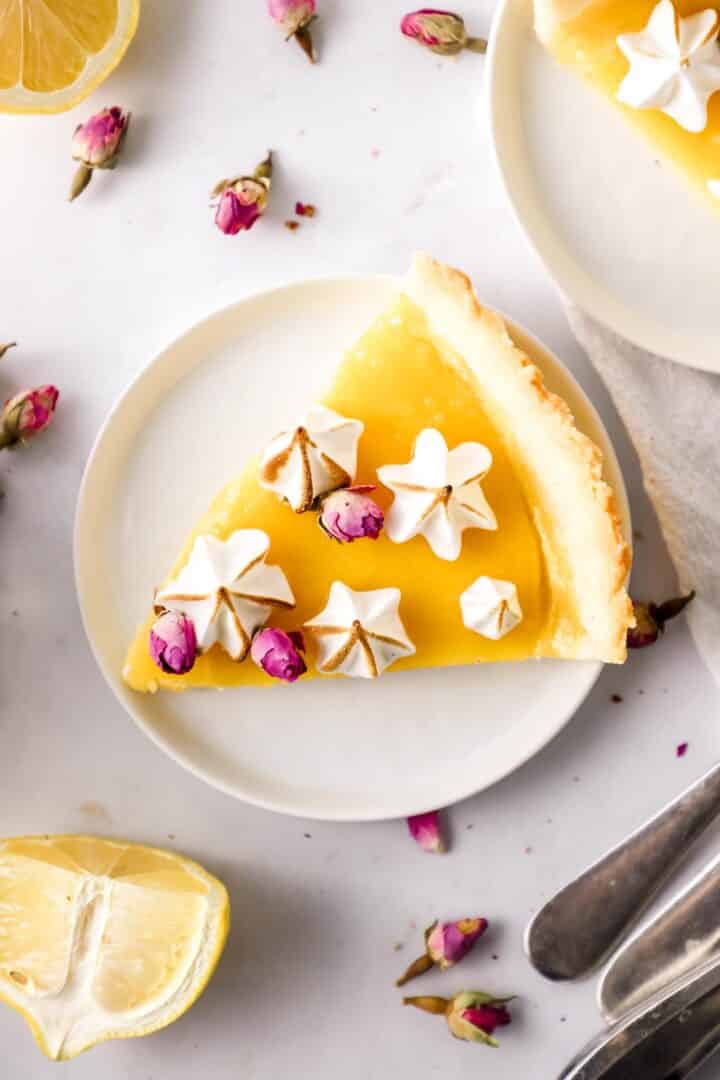 Pipe small meringue puffs on top of the lemon curd. Take the butane torch and carefully brush over each puff until golden.
Place edible flowers by each meringue puff.
Enjoy!
Equipment
Butane torch
Removable bottom tart pan
Electric mixer
Storage
Cover the pie with plastic wrap and refrigerate for up to 2 days.
Top tip
Make sure to bake the pie on the lower oven rack.