Is anyone obsessed with the HBO show Julia? I know I am. And that does actually have something to do with Great Jones. Great Jones was named after Julia's cookbook editor Judith Jones. If you've seen the series, she's the smart and determined blonde woman who travels from New York to support Julia.
Great Jones is one of those brands that you love to have in your kitchen. The designs are thoughtful, colorful, and totally displayable. But, do the sheet pans live up to the hype?
You can find the baking sheets HERE.
Jump to:
The Price
The price is $85 for one half sheet pan and two quarter-sized baking pans. On Memorial Day there is a 20% sale, and you can get 10% off when you sign up with an email. There is no sale or clearance section on the website.
Where Can I Buy?
Great Jones sells these pans on their website HERE. As of right now, Great Jones is not sold in any major retail stores.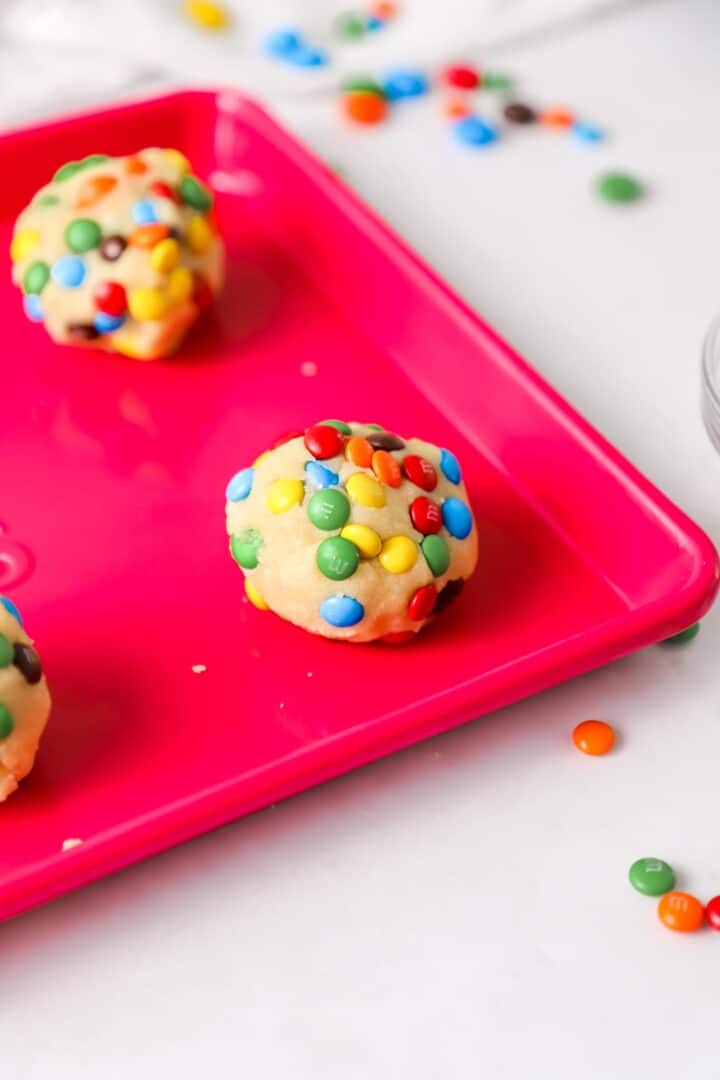 How I Used the Baking Sheets
I used the quarter sheet to test my M&M cookies recipe. I also used the other quarter sheet to make a cherry pie. I lined the baking sheet with a pie crust and topped it with filling. Finally, I used the large baking sheet to make sunny-side-up eggs. I cracked the eggs on the pan and broiled them for 5 minutes.
Since I was testing a lot of M&M cookie recipe variations, I had to use my old, worn-out baking sheet, too. This was helpful to compare the cookies from each pan.
Who Would Like This Baking Sheet Set?
People who...
love an aesthetic, pretty kitchen
want to take pictures or videos while baking
want baking sheets that will last
Color Options
The set comes in three colors: pink, blue, and green.
Is it dishwasher safe?
Yes, on the website it says the baking sheets are dishwasher safe; however, the dishwasher makes the sheets lose their shine. I have an older Great Jones sheet pan in blue and it's lost its shine because I put it in the dishwasher. I would recommend hand washing the set.
Other Helpful Info
Oven-safe up to 450 degrees.
Avoid using metal utensils to prevent chips and scratches.
The Verdict
If you want a sheet pan set that will last and look beautiful, this is the set for you. It's a great set for a small kitchen because you can store them out in the open. It's also a GREAT gift! I love using the quarter size because it's the perfect size for recipe development.
I wouldn't recommend this set to those who don't like handwashing their pans.