Ah, the humble banana bread! It's a classic favorite for many. But what happens when you merge the tropical sweetness of bananas with the earthy flavors of pumpkin, all while keeping it gluten-free? Magic, that's what! This article walks you through the wonders of gluten-free banana bread – the pumpkin banana bread edition – and why it should be your next baking project.
Health Benefits of Pumpkin
Alright, so, first things first. Let's chat about pumpkin. Beyond being a Halloween staple, did you know that pumpkin is a nutritional powerhouse? Just like other fruits, pumpkin boasts a hefty amount of fiber. Specifically, canned pumpkin contains a whopping 7 grams of fiber for every one-cup serving. And we all know fiber is the unsung hero of our digestive system. It aids in cholesterol removal, stabilizes those unpredictable blood sugars, regulates our bowel habits, and – bonus – makes us feel satiated longer.
Steel Cut Oats vs. Rolled Oats
Now, onto oats – because what's a hearty bread without them? Rolled oats and steel-cut oats both have their time and place. They might seem like twins, but there are subtle differences. While they both retain most of their nutrients since they're minimally processed, steel-cut oats take a tad longer to digest. This means they'll keep your tummy satisfied for an extended period. Plus, they gently impact blood sugar levels, making them a top pick for those watching their glycemic intake.
Key Ingredients
Buckle up, folks! Here's where the magic happens. Let's break down the essential players in our gluten-free banana bread recipe:
Bananas: The core of our bread. They lend a natural sweetness and moisture, making added sugars and fats take a backseat.
Unsalted Butter: Adds richness without overwhelming the bread with salt. Balance is key!
Maple Syrup: A touch of natural sweetness. It's not just for pancakes, folks!
Gluten-Free Flour: This is what gives the bread its structure while keeping it, well, gluten-free. For those with gluten sensitivities or celiac disease, this ingredient is a lifesaver.
Canned Pumpkin: Enhances the bread's moisture while infusing it with that earthy, pumpkin-y goodness.
Ground Cinnamon: For a hint of spice to complement the sweetness.
Steel Cut Oats: Gives the bread a pleasant chew and boosts its fiber content.
All these ingredients don't just make the bread tasty; they each serve a vital purpose in the baking process.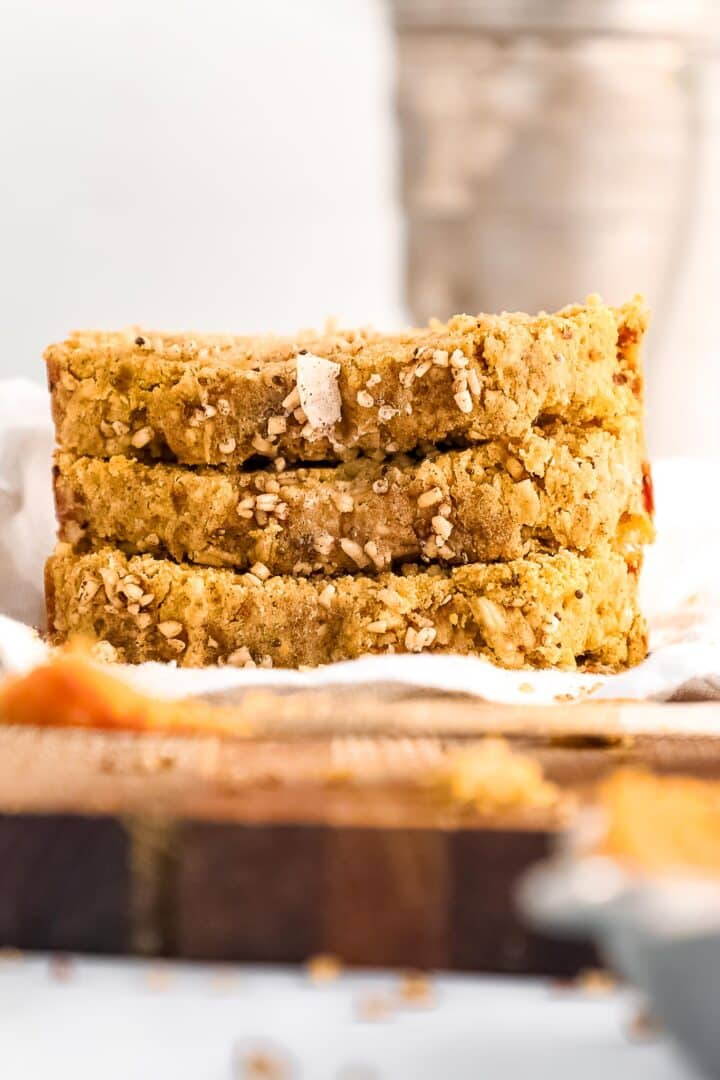 Step by Step Instructions
Begin by mixing all wet ingredients in a bowl. This includes your ripe bananas, melted unsalted butter, maple syrup, egg, vanilla bean paste, and canned pumpkin.
Once you've got a smooth consistency, start introducing the dry ingredients: baking soda, salt, gluten-free flour, ground cinnamon, and steel cut oats.
After everything's combined and you have a nice, thick batter, pour it into a loaf pan.
Pop it into a preheated oven (350 degrees) and let it bake for 30 minutes.
There you have it – an aromatic, flavorful gluten-free banana bread that'll have you reaching for seconds!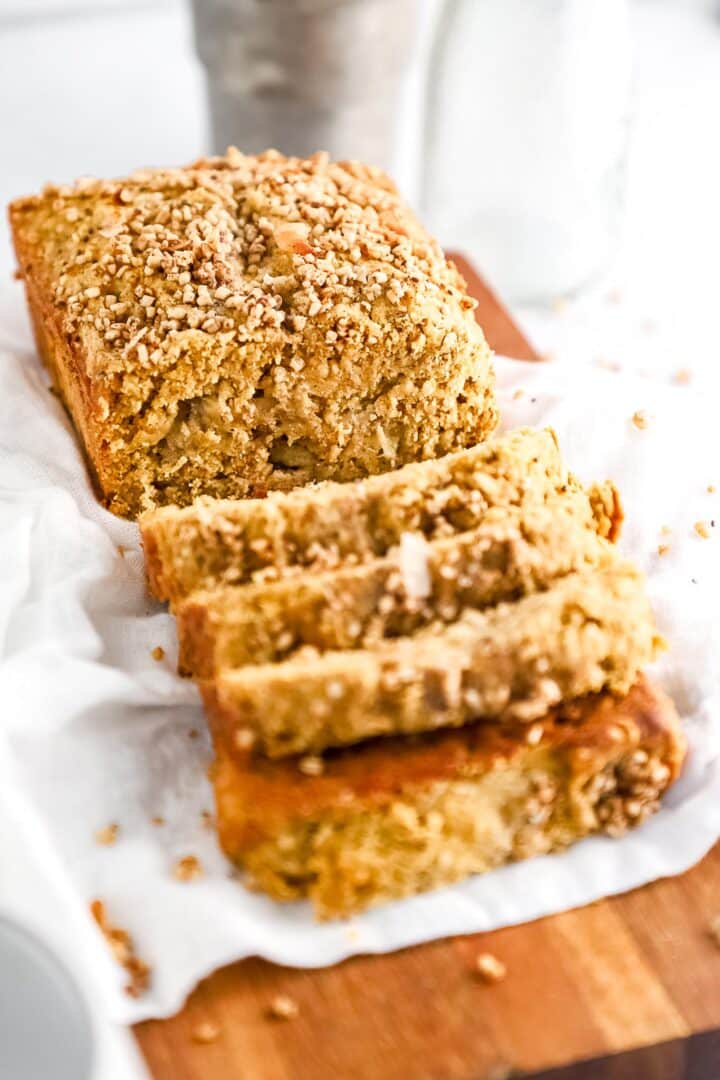 Ingredient Substitutions
Look, life happens. Sometimes you're out of maple syrup or maybe you're not a pumpkin fan. No worries! Here are a few swaps:
Maple Syrup: Honey or agave nectar works wonders.
Canned Pumpkin: Swap with applesauce or mashed avocados for a different twist.
Steel Cut Oats: Rolled oats can step in if you're out of steel-cut oats.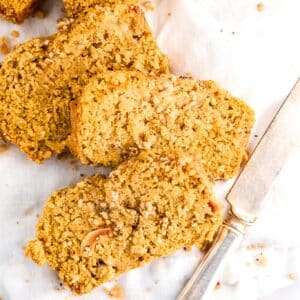 Gluten Free Pumpkin Banana Bread
A moist and flavorful blend of ripe bananas and pumpkin, packed in a gluten-free bread that's perfect for any time of the day.
Ingredients
2-3

medium very ripe bananas

⅓

cup

unsalted butter

melted

½

teaspoon

baking soda

½

teaspoon

salt

¼

cup

maple syrup

1

egg

½

teaspoon

vanilla bean paste

1 ½

cups

gluten free flour

½

cup

canned pumpkin

1

teaspoon

ground cinnamon

1

cup

steel cut oats
Instructions
Mix wet ingredients.

Combine with dry ingredients.

Pour batter into loaf pan.

Bake for 30 minutes at 350 degrees.
Notes
Can be stored in an airtight container for up to 5 days.