Has your breakfast game been feeling a tad bland? Look no further! I've stumbled upon a healthy cinnamon granola recipe that's more than just a handful of oats. Say hello to the delightful crunch of my maple cinnamon granola—a crispy, sweet, and flavorsome morning ritual you'd hate to miss.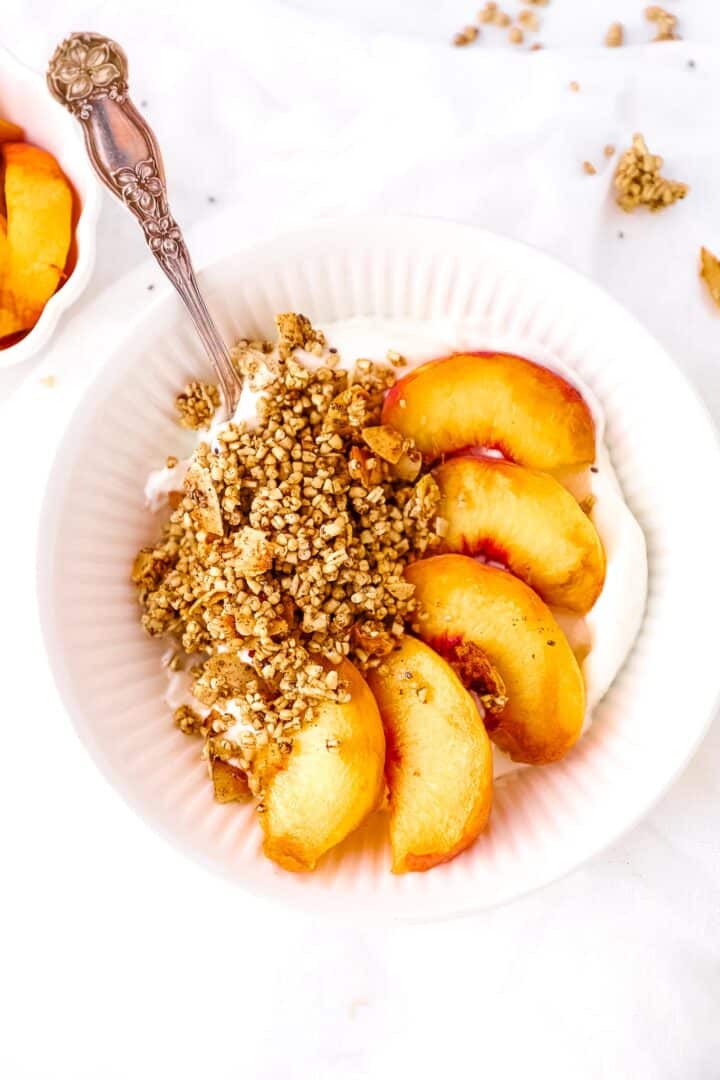 Key Ingredients
Dive into the very soul of this granola. Let's break down the components of this scrumptious treat:
Steel Cut Oats: These aren't your regular oats. Steel cut oats provide a rich, nutty flavor, ensuring every bite of your granola packs a punch. Plus, they're gluten-free, making them perfect for those with sensitive tummies.
Shredded Coconut: Adds a tropical touch to your breakfast. This ingredient doesn't just give an island-like feel but also offers a unique texture to the mix.
Chia Seeds: Tiny but mighty! These seeds are a powerhouse of fiber and omega-3s, giving your granola a nutritional boost.
Salt: Just a pinch to balance the sweetness and enhance the overall flavors.
Ground Cinnamon: The star spice! Its warm and earthy notes are the very essence of this cinnamon granola recipe.
Maple Syrup: The natural sweetener that binds everything together. Trust me; this golden liquid makes all the difference in a maple syrup granola recipe.
Olive Oil: Helps in roasting the granola to crispy perfection. It also adds a subtle savory touch.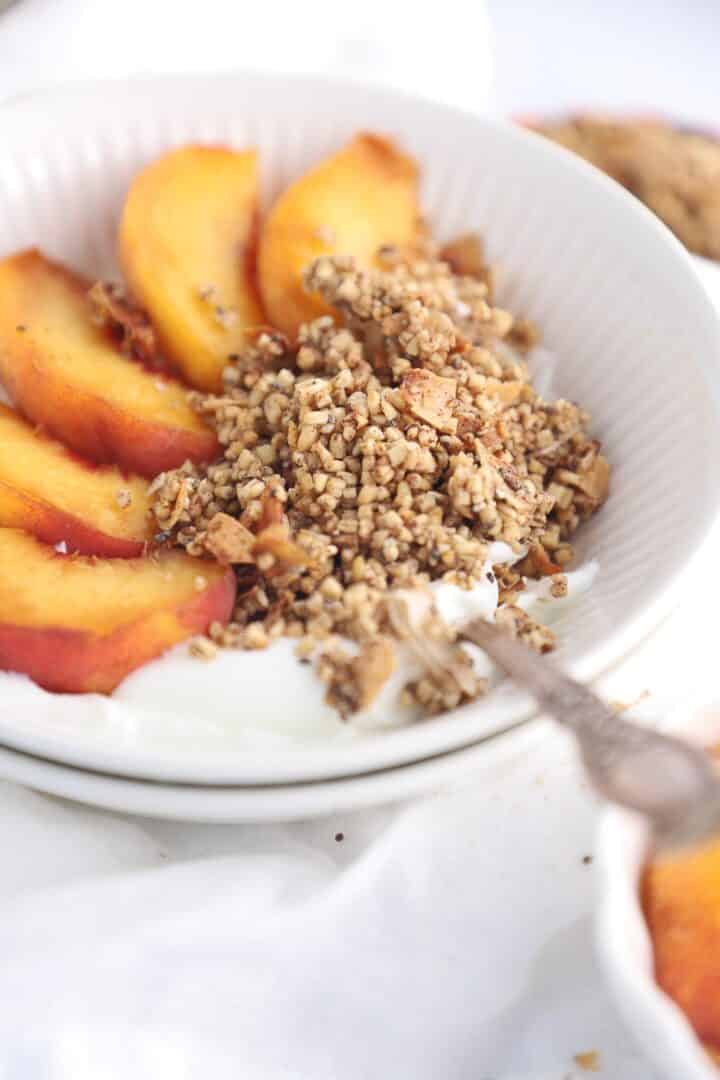 Step by Step Instructions
No beating around the bush! Let's get cracking:
Preheat your oven to 350 degrees.
In a big bowl, combine the steel cut oats, shredded coconut, chia seeds, salt, ground cinnamon, maple syrup, and olive oil.
Give it a good mix, ensuring the oats are well-coated with the syrup and oil.
Spread the mix evenly on a baking sheet.
Roast in the oven for 24 minutes, tossing occasionally, until golden brown.
Once done, let it cool and then store in airtight containers. Voila! Breakfast for days!
Ingredient Substitutions
Hey, don't fret if you're missing an ingredient or two! Here are some swaps you can consider:
No maple syrup? Honey can step in as a great substitute.
Out of olive oil? Coconut oil or melted butter can work wonders.
Allergic to coconut? Just skip it or throw in some slivered almonds.
Serving Suggestions
Jazz up your maple cinnamon granola breakfast:
FAQs
Can I use rolled oats instead?
Yes, but the texture might be slightly different. Rolled oats cook faster, so keep an eye on them!
How long does this granola last?
Stored in an airtight container, it can last up to 2 weeks.
Is this recipe vegan?
Yep! As long as you're using pure maple syrup, you're good to go.
Maple Cinnamon Granola
Unearth the joy of mornings with this hearty maple cinnamon granola, boasting the perfect mix of crunch and sweetness.
Equipment
Oven

Large mixing bowl

Spatula or wooden spoon

Airtight container for storage
Ingredients
4

cups

steel cut oats make sure they are gluten free

1

cup

shredded coconut

¼

cup

chia seeds

1

teaspoon

salt

1

teaspoon

ground cinnamon

½

cup

maple syrup

½

cup

olive oil
Instructions
Preparation: Preheat your oven to 350°F (175°C). Line a baking sheet with parchment paper or lightly grease it.

Mix Dry Ingredients: In a large mixing bowl, combine the steel cut oats, shredded coconut, chia seeds, salt, and ground cinnamon. Mix them thoroughly to ensure even distribution of the cinnamon and salt.

Add Wet Ingredients: Pour in the maple syrup and olive oil. Stir until all the dry ingredients are coated well with the wet mixture. Ensure there are no dry spots in your mix.

Spread and Roast: Transfer the mixture onto the prepared baking sheet, spreading it out in an even layer. This will ensure uniform baking.

Bake: Place the baking sheet in the preheated oven and bake for 24 minutes. Halfway through (around the 12-minute mark), take the sheet out and stir the granola using a spatula or wooden spoon. This ensures even baking and prevents the granola from burning.

Cool and Store: Once baked to a golden brown, remove the granola from the oven and let it cool on the baking sheet. The granola will continue to harden as it cools. After it's cooled, transfer the granola to an airtight container. It's now ready to be enjoyed!
Notes
Can substitute honey for maple syrup or coconut oil for olive oil if needed.