The 4th of July can be hard to navigate if you're gluten-free, but these recipes can make the holiday a lot easier. Whether you are craving a cookie bar or a decadent strawberry cake, I've got you covered.
These recipes are great for feeding a crowd and don't require a lot of prep time so you can spend less time in the kitchen over the holiday.
Keep reading to find indulgent and healthy recipes that are perfect for the 4th of July!
Jump to:
I don't think I'm going out on a limb when I saw strawberries and cream is one of the best combinations in the world. These strawberry and cream cookies combine strawberry powder, fresh strawberries, and fresh whipped cream to make the most delicious, crumbly cookie.
Talk about an easy dessert that travels well! These gluten-free M&M cookie bars are so delicious, gooey, and the best combination of a brownie and an M&M cookie. Use red, white, and blue M&M's for a festive twist.
You know that frosting at bakeries that keeps its shape so well? This is that frosting. Classic swiss meringue frosting is surprisingly easy to make and only calls for a few ingredients. It's more time-consuming than buttercream frosting, but it also looks better on cupcakes, cookies, and cakes.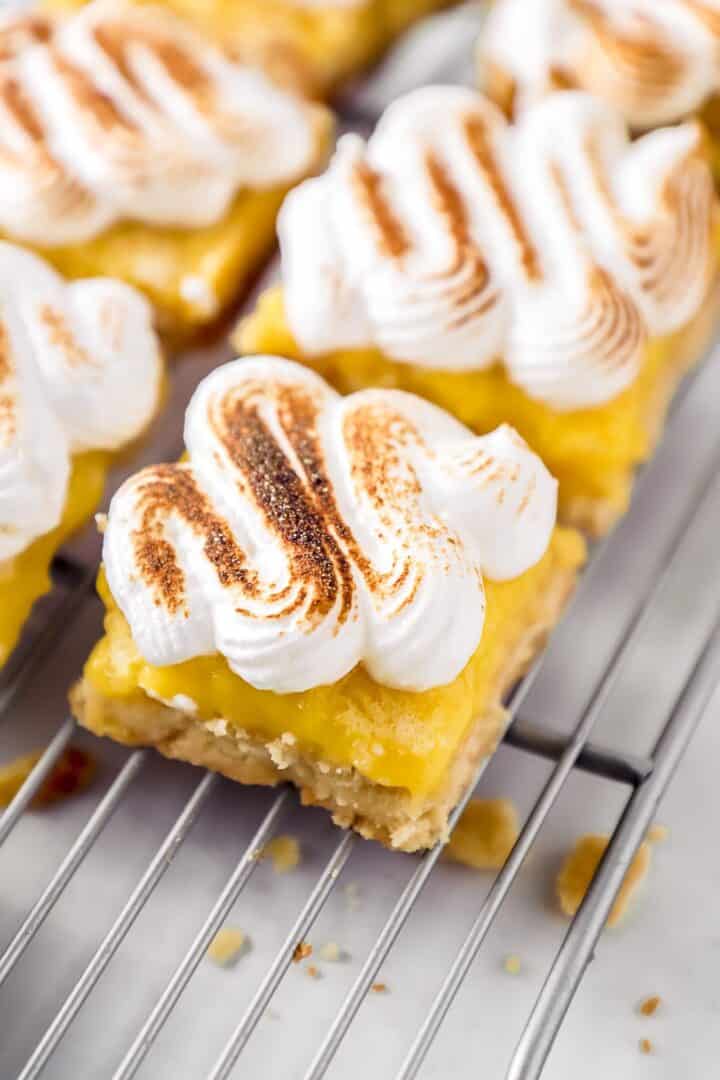 I developed this recipe when I was just craving a lemon meringue pie, but I didn't feel like going through the hassle of rolling out the crust, etc. Instead, I made a simple shortbread crust, topped it with a lemon curd that firms up in the oven, and topped it with basic meringue. 
Peach pie reminds me of summer. It's full of fresh, juicy peaches, rich and decadent caramel sauce, and flaky, buttery pie crust. Peach pie can be made in a lot of different ways. Some are made with peach slices, oatmeal crumble, or even canned peaches. This peach pie is made by halving the peaches and placing them with the skin side up. This makes the peach pie extra beautiful.
This easy gluten-free strawberry galette best way to make use of extra frozen or fresh strawberries. This is the perfect summer dessert for outdoor parties and last-minute desserts. You can prepare the galette ahead of time and just pop it in the oven before serving.
Strawberry syrup is such a versatile sauce. It's great for waffles, ice cream, french toast, strawberry milk, or shaved ice. I use my strawberry syrup to top cups of shaved ice for the ultimate summer treat. I developed this recipe over Memorial Day Weekend when it was like 95 degrees outside so it would be perfect for the 4th of July! 
I don't know about you, but I usually like the ice cream cone more than the ice cream! I think it's something about the satisfying crunch. Anyways, these ice cream cones have a delicious twist: peanut butter + chocolate. Is there anything better?
Any of these treats would be a huge hit at a party! Plus, all the gluten-free people will thank you for bringing something they can eat, too.