Ever wonder how you can make dessert not just a guilty pleasure but a healthful indulgence? Well, allow me to introduce the enchanting world of kefir chocolate pudding. This luscious, tangy treat is more than a dessert—it's a nutritional powerhouse with gut-boosting benefits.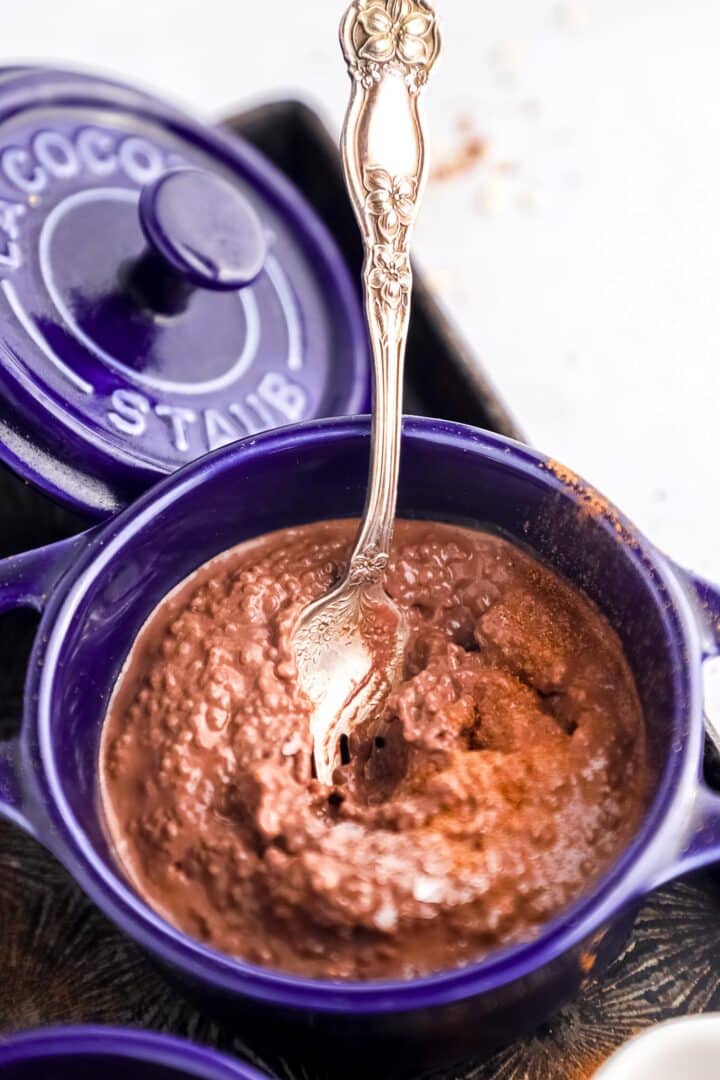 What Can I Do With Leftover Kefir?
Leftover kefir need not be a reason for despair. Instead, it opens up a world of culinary creativity. Beyond the realm of kefir chocolate pudding, leftover kefir can be used in a variety of other milk kefir dessert recipes.
Whip up a smooth, creamy banana kefir ice cream for a hot summer afternoon.
Prepare some tantalizing vanilla kefir pancakes for a hearty breakfast.
Blend it into a refreshing fruit smoothie for a quick and nutritious snack.
Key Ingredients
Chia Seeds
These tiny black seeds are the thickeners in our pudding. They're packed with fiber, protein, and omega-3 fatty acids, which make them a heart-healthy choice.
Plain Kefir
Kefir, the star of our show, brings a tangy flavor to our pudding. This fermented milk product is teeming with probiotics, which are great for your gut health.
Vanilla Bean Paste
Vanilla bean paste infuses our pudding with a rich, aromatic vanilla flavor that perfectly complements the tang of the kefir and the sweetness of the maple syrup.
Cacao Powder
Cacao powder adds a deep, chocolatey taste to our pudding while also providing antioxidants that promote health.
Maple Syrup
Maple syrup offers a sweet, caramel-like taste and natural sweetness, making our pudding deliciously irresistible.
Salt
A pinch of salt enhances all the other flavors and gives our pudding that perfect balance of sweet and savory.
Step by Step Instructions
Add ½ cup of chia seeds, 2 cups of plain kefir, 1 tablespoon of vanilla bean paste, ¼ cup of cacao powder, ¼ cup of maple syrup, and ¼ teaspoon of salt into your food processor.
Blend all the ingredients until well combined.
Pour the mixture into single-serving containers.
Chill the pudding until it solidifies.
Savor every spoonful of your homemade kefir chocolate pudding.
What is Kefir Made Of?
Kefir is a fermented milk product, akin to yogurt but with a more tangy flavor and effervescent texture. It's made by adding kefir grains—colonies of yeast and lactic acid bacteria—to milk and allowing it to ferment.
How Long Before Kefir Goes Bad?
Properly stored kefir typically lasts for about 3 weeks in the refrigerator. But remember, the longer kefir sits, the more tart and thick it becomes, which might just make your kefir chocolate pudding even more delectable!
Ingredient Substitutions
If you're missing any ingredients or have dietary restrictions, don't worry—this recipe is easily adaptable.
For a dairy-free version, use coconut milk kefir instead of plain kefir.
If you're out of maple syrup, honey or agave nectar are great alternatives.
Not a fan of chocolate? Try using matcha powder instead of cacao for a unique spin on this pudding.
Serving Suggestions
Here's a delicious idea: Top off your kefir chocolate pudding with some fresh fruit, like banana slices or Chocolate Covered Pineapple pieces. You could also sprinkle it with some Oven-Dried Orange Slices for a tangy twist. For a crunchy contrast, garnish with some Gluten-Free Cereal Brands. If you're feeling fancy, a dollop of Pear Crumble can take it up a notch.
FAQs
Can I use flavored kefir instead of plain?
Yes, you can! Just keep in mind that flavored kefirs may alter the taste of your pudding.
Can I use regular cocoa powder instead of cacao powder?
Absolutely. Both provide that desirable chocolatey flavor. However, cacao powder is less processed and richer in antioxidants.
Can I use another sweetener instead of maple syrup?
Certainly! Honey, agave nectar, or even stevia can be used, depending on your dietary needs and preferences.
Kefir Chocolate Pudding
A rich, tangy, and nutritious kefir chocolate pudding made with chia seeds, cacao powder, and maple syrup.
Ingredients
½

cup

chia seeds

2

cups

plain kefir

1

tablespoon

vanilla bean paste

¼

cup

cacao powder

¼

cup

maple syrup

¼

teaspoon

salt
Instructions
Combine all ingredients in a food processor.

Blend until smooth.

Pour into single serving containers.

Chill until solid.

Serve and enjoy!
Notes
The pudding will thicken as it chills, so be sure to prepare it in advance.
Feel free to customize the toppings to your liking.
Nutrition
Serving:
1
serving
Calories:
185
kcal
Carbohydrates:
28
g
Protein:
5
g
Fat:
7
g
Saturated Fat:
1
g
Polyunsaturated Fat:
5
g
Monounsaturated Fat:
1
g
Trans Fat:
0.03
g
Sodium:
152
mg
Potassium:
214
mg
Fiber:
9
g
Sugar:
14
g
Vitamin A:
11
IU
Vitamin C:
0.3
mg
Calcium:
163
mg
Iron:
2
mg