Roasted strawberries? You heard it right! While strawberries are a beloved fresh fruit across the world, we often forget their versatile charm when it comes to cooking techniques. This article will walk you through the unexpectedly luscious world of roasted strawberries, revealing how to unlock flavors you never knew strawberries could have. With a little heat and a dash of creativity, you'll be marveling at the transformation of this ruby red fruit in no time.
Looking for more delicious gluten-free treats? Check out some of my other recipes: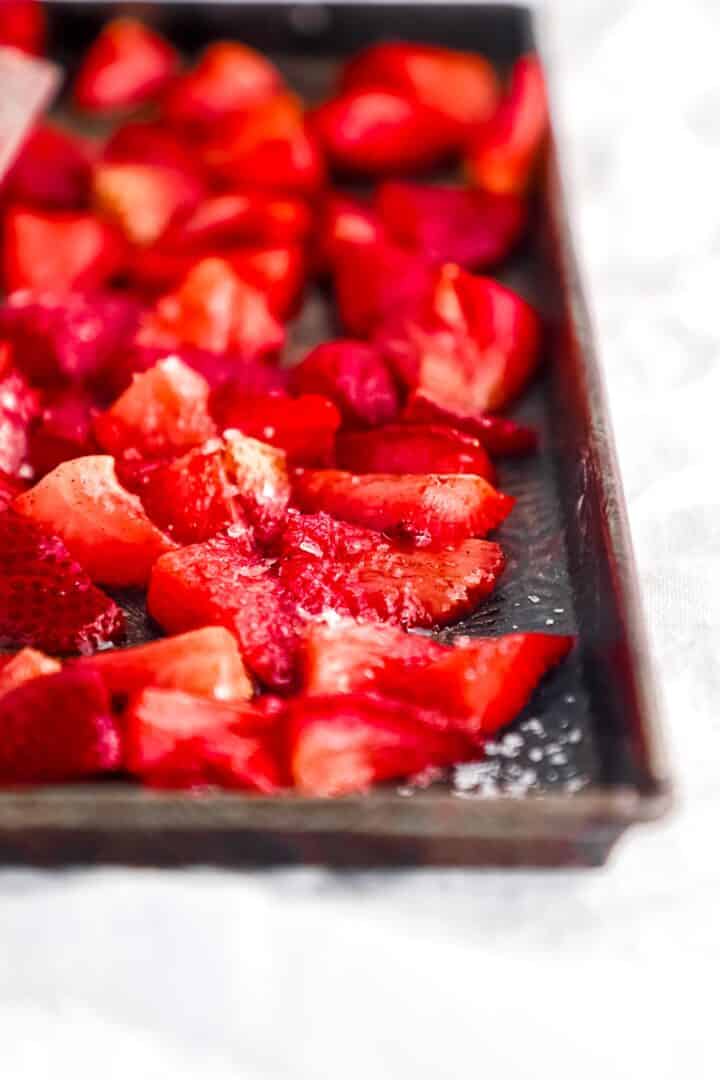 Do strawberries get sweeter when cooked?
One question that often pops up is, "Do strawberries get sweeter when cooked?" The short answer is yes, absolutely! The heat of the oven helps to break down the strawberries' natural sugars, turning them into a soft, intensely sweet delight. The roasting process also enhances the natural flavors of the strawberries, giving them a deeper, almost jam-like quality that's simply to die for.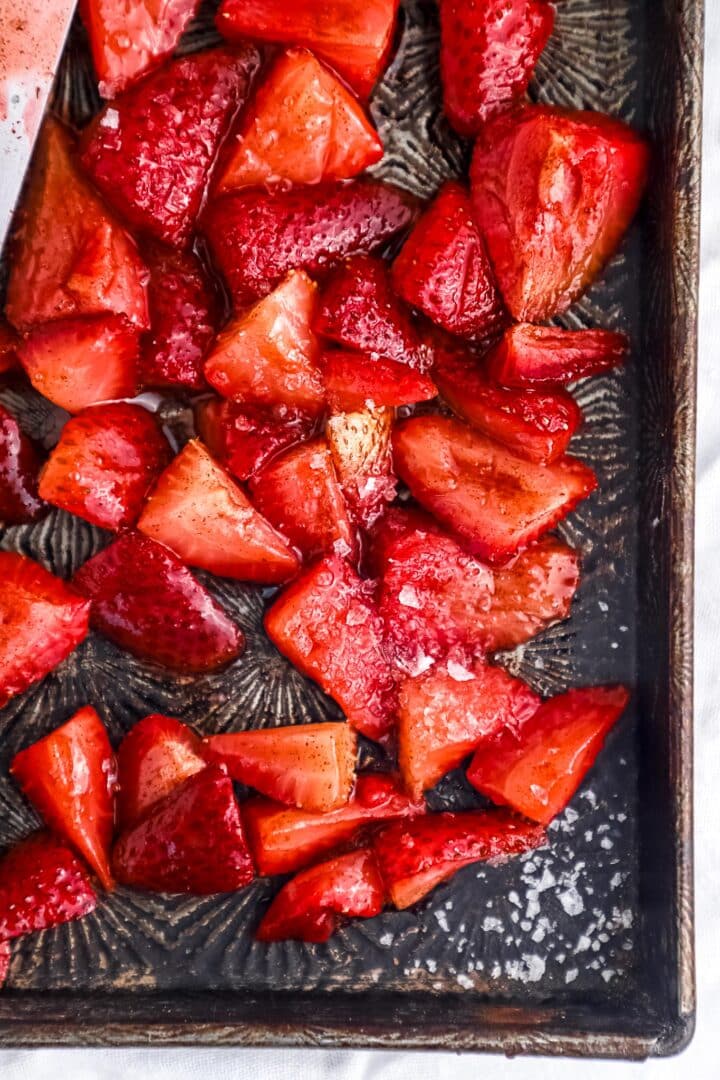 How to pick sweet strawberries
The secret to successful roasted strawberries starts with the right fruit. Here's how to pick sweet strawberries:
Look for bright red berries. They should be evenly colored, without white or green areas.
Check for a sweet aroma. This is usually a good indicator of a deliciously sweet strawberry.
The caps should be fresh and green.
Avoid strawberries with bruises or signs of mold.
Following these tips will ensure that you start off with the sweetest, freshest strawberries for your roasted dish.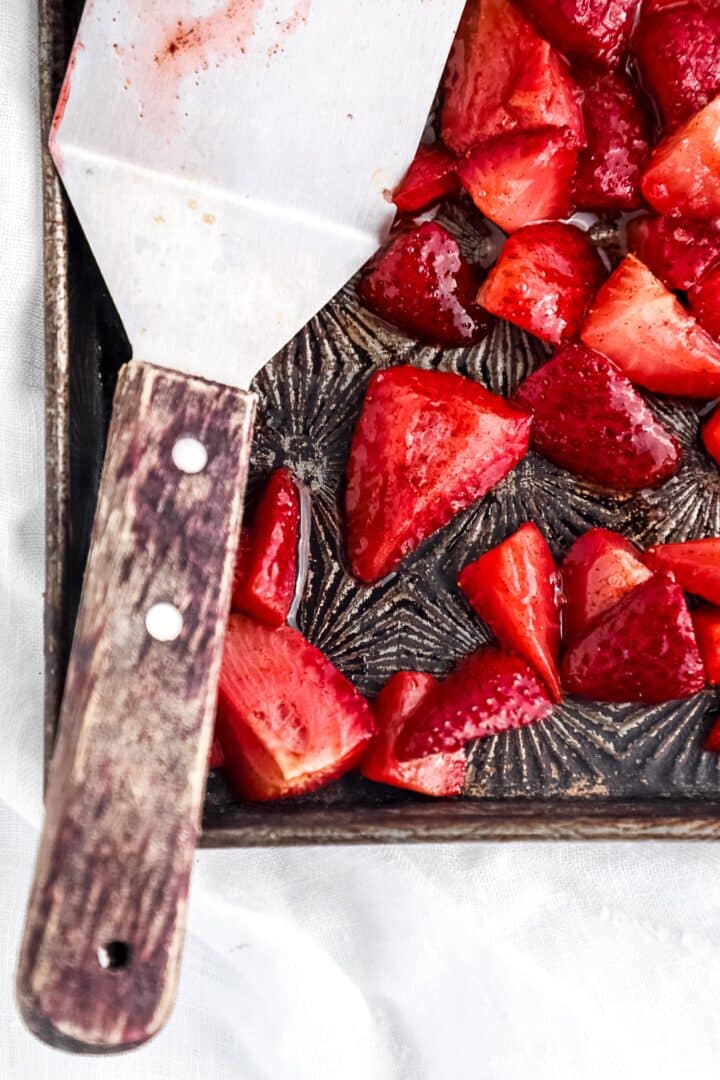 How to make this recipe with frozen strawberries
While fresh strawberries are ideal, don't despair if all you have are frozen strawberries. You can certainly use them for this recipe. Just make sure to thaw them out thoroughly and drain any excess water before proceeding with the roasting.
Serving Suggestions
Roasted strawberries are surprisingly versatile. They're divine when served over vanilla ice cream, swirled into Greek yogurt, or layered between pancakes. For a savory twist, try adding them to your grilled cheese sandwich or pairing them with roasted pork or turkey. Your imagination is the only limit!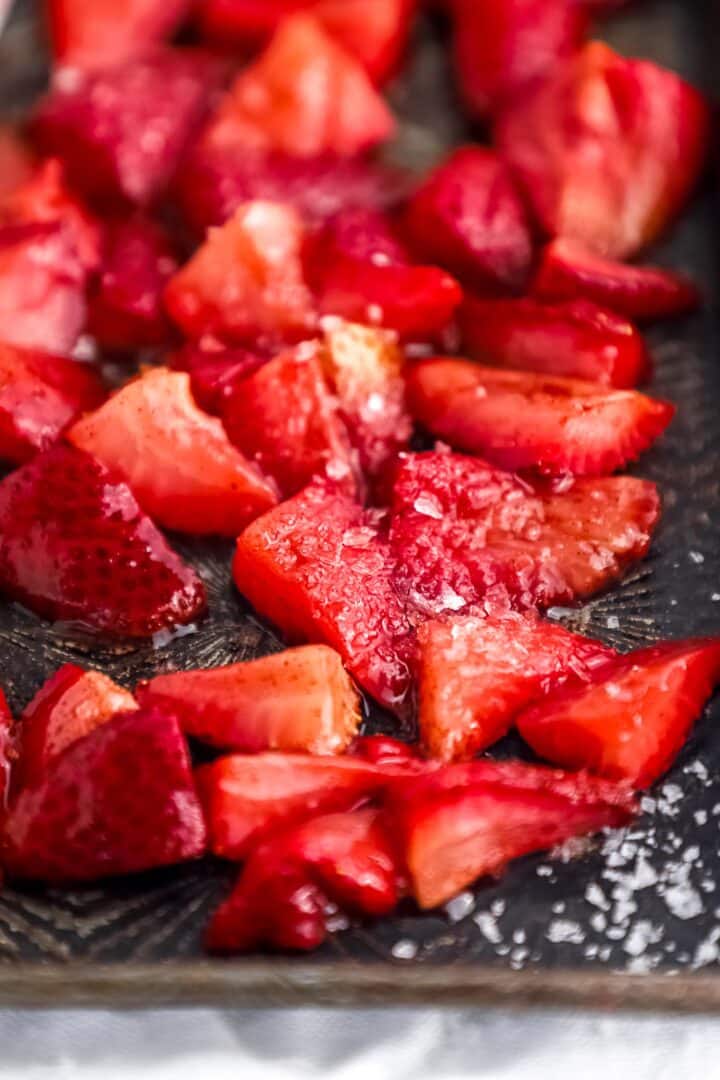 FAQs
Can I use honey instead of maple syrup?
Sure can! Roasted strawberries with honey are equally delightful. Feel free to experiment with different sweeteners.
Can I roast strawberries with other fruits?
Absolutely! Roasted strawberries can be mixed with other fruits like rhubarb, peaches, or apples for a deliciously complex flavor.
How long do roasted strawberries last in the fridge?
They can last for up to a week when stored in an airtight container in the refrigerator.
Can I freeze roasted strawberries?
Yes, you can freeze them for up to 2 months. Make sure they're in a freezer-safe container or bag.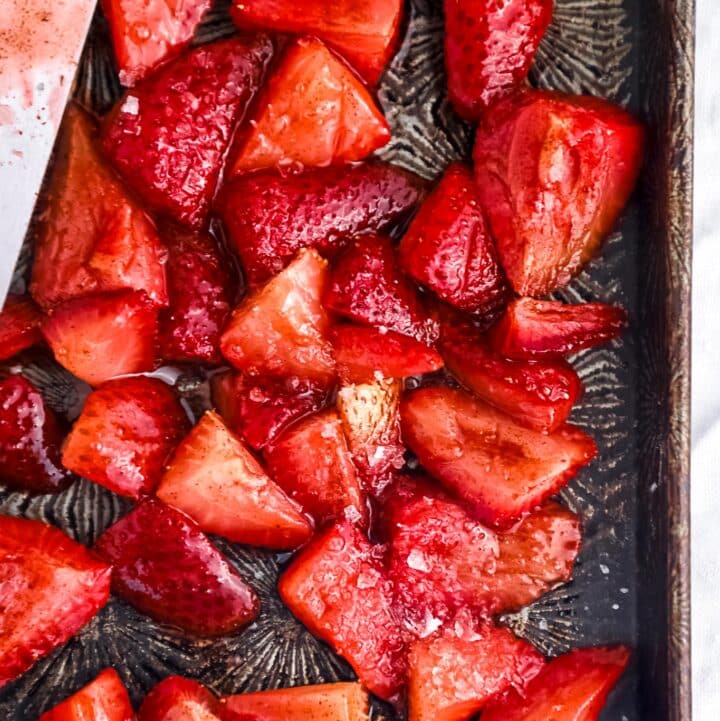 Roasted Strawberries with Maple Syrup
An innovative twist to strawberries, this recipe brings out their natural sweetness, complemented by the depth of maple syrup and a hint of cinnamon. A delightful addition to ice creams, compotes, or even savory dishes.
Equipment
Oven

Mixing Bowl

Parchment paper
Ingredients
5

cups

fresh strawberries

sliced

¼

cup

maple syrup

1

teaspoon

ground cinnamon

¼

teaspoon

salt
Instructions
Preheat your oven to 300 degrees.

In a mixing bowl, combine all ingredients thoroughly.

Pour the strawberries onto a baking sheet lined with parchment paper.

Bake in the oven for 45 minutes.

Allow them to cool before storing in the fridge.
Nutrition
Serving:
1
serving
Calories:
37
kcal
Carbohydrates:
9
g
Protein:
0.01
g
Fat:
0.003
g
Saturated Fat:
0.002
g
Sodium:
98
mg
Potassium:
32
mg
Fiber:
0.2
g
Sugar:
8
g
Vitamin A:
1
IU
Vitamin C:
0.01
mg
Calcium:
18
mg
Iron:
0.04
mg