Ah, gluten-free blackberry muffins... is there anything better? Okay, well, maybe it is better to wake up on a weekday morning with nothing to do, but I think you understand where I'm going here!
The perfect blend of tart and sweet blackberries with a soft and fluffy texture that melts in your mouth. A nice sprinkling of sugar on top gives them a little extra sweetness and crunch. And when they're made with gluten-free flour, they're even more irresistible!
Tried this recipe? Please leave a star ⭐️⭐️⭐️⭐️⭐️ rating below and/or a review in the comments section down the page. You can also stay in touch with me through social media by following me on Instagram, Pinterest, and TikTok or subscribing to my newsletter. 
Jump to:
Easy, Gluten-Free Muffin Recipe
This gluten-free blackberry muffin recipe is so easy to make you'll be surprised how quickly they come together. You'll have warm, delicious muffins with just a few simple ingredients and less than 30 minutes of gluten-free baking time. And they will be perfect for breakfast or an afternoon snack.
Looking for more easy gluten-free fall-friendly recipes? Check out my Pumpkin Patties with Chocolate or The BEST Apple Cinnamon Popcorn!
These Muffins Do More Than Tip Off Your Tastebuds
Blackberry homemade muffins are not only delicious, but they're also good for you! Juicy blackberries are an excellent source of fiber, vitamins C and K, and manganese. They're also low in calories and fat, making them a healthy breakfast or snack choice.
When made with gluten-free flour, these muffins are perfect for those who have celiac disease or are gluten-sensitive. Gluten-free flour is made from various grains, including rice, tapioca, potato, and sorghum.
It's crucial to check the labels on gluten-free products. Also, ensure they're certified gluten-free by the FDA (United States Food & Drug Administration).
The gluten-free flour blend I prefer for this recipe is King Arthur or Cup4Cup.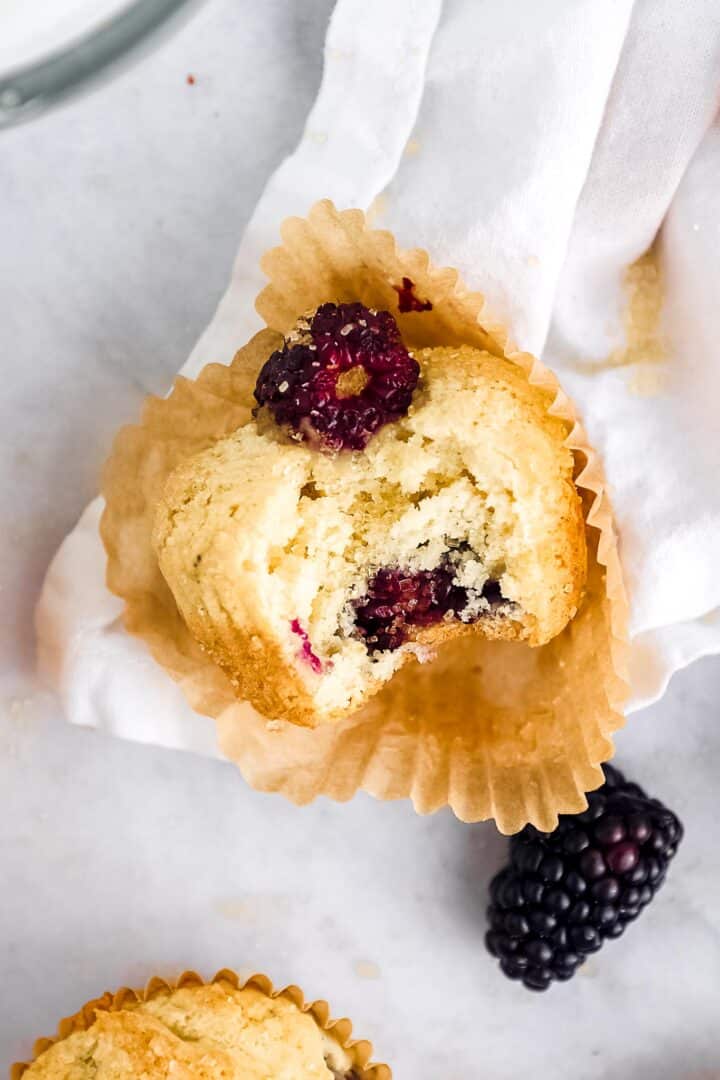 Important Recipe Notes
Oven temperature
Bake at 425° for the first 6 minutes to get the muffins to rise, then lower to 375° so the muffins bake through.
Storage
Store in an airtight container or plastic bag for up to 4-5 days. To reduce sogginess, wrap the muffins in paper towels before storing them in a container or plastic bag. Freeze in a freezer-safe container for up to three months.
Variations
Feel free to get creative if these wholesome ingredients aren't available. If you don't have any blackberries, for example, use fresh fruit like blueberries, raspberries, or apples instead.
Using Fresh vs. Frozen Blackberries
If you use frozen blackberries, mix the berries with two tablespoons of gluten-free flour first. Tossing them with the flour first stops the frozen berries from sinking to the bottom of the muffin.
Dry & Wet Ingredients
Sugar: I prefer granulated, but you could also use brown sugar or a sugar-free alternative.
Eggs: Two large eggs should do the trick, but if you have smaller ones, add an extra one.
Butter: Make sure the butter is at room temperature so it mixes easily with the other ingredients. You could also use oil instead of butter if you prefer.
Gluten-Free Flour: As I mentioned earlier, I recommend using King Arthur or Cup4Cup gluten-free flour for this recipe.
Vanilla Extract: Almond extract makes a great alternative to vanilla extract.
Kosher Salt: Use whatever kind of salt you'd like. I use kosher salt.
Baking powder: The baking powder will help the muffins rise, so don't skip it.
Baking soda: Baking soda helps with the muffin's texture and browning. You don't want to miss this one, either!
Buttermilk: You could also use whole milk, 2%, or even almond milk in place of the buttermilk. If you don't have any buttermilk on hand, make your own! Add one tablespoon of vinegar or lemon juice to a measuring cup and then fill it up with milk until you have one cup. Let it sit for 5 minutes before using.
Blackberries: I recommend using fresh blackberries if possible. But, as I said earlier, if you only have frozen ones, that's fine, too. Just mix the berries with two tablespoons of gluten-free flour before adding them to the batter.
Coarse sugar: This will be used to top the muffins for that extra special crunch!
How to Make Fluffy Muffins
A few key ingredients will help you make the best gluten-free blackberry muffin recipe.
First, use room-temperature eggs. Room-temperature eggs mix more easily with the other ingredients and produce a lighter, fluffier batter. If your eggs are cold, place them in a medium bowl of warm water for 5 minutes before using them in the recipe.
Second, use buttermilk in place of regular milk. Buttermilk is slightly acidic, which helps to tenderize the gluten-free flour and produce extra moisture. Don't have buttermilk on hand? No problem! You can make your own in a small bowl by adding one tablespoon of lemon juice or vinegar to one measuring cup of milk. Let it sit for 5 minutes before using it in the recipe.
Finally, use melted butter instead of melted coconut oil or avocado oil. Melted butter gives the muffins a richer flavor and helps to bind the ingredients together.
Follow these tips, and you'll end up with light, fluffy, and delicious gluten-free blackberry muffins!
How to Get Muffins Out of Tin
Usually, it's fine getting gluten-free muffins out of the tin (mainly because we are using paper liners). But if you're having trouble, here are a few tips:
- Use a rubber spatula to loosen the edges of the muffins.
- Gently tap the tin on the countertop to loosen it.
- Remove each muffin from the tin and place it on a cooling rack.
You can also try running a knife along the edge of each one. Or, place the entire tin in the freezer for 10 minutes and then pop them out.
Gluten-Free Blackberry Muffins Recipe
Are you ready to indulge in decadent, gluten-free blackberry muffins? We thought so! Go on, get the recipe from The Glutenless Maximus here.
Ingredients
⅔

cup

granulated sugar

1

stick unsalted butter

softened

2

eggs

2

teaspoons

vanilla extract

2 ½

cups

gluten-free flour

1

teaspoon

kosher salt

1

tablespoon

baking powder

½

teaspoon

baking soda

1

cup

buttermilk

1

cup

fresh blackberries

¼

cup

coarse sugar
Instructions
Preheat the oven to 425°, then line a 12-cup muffin pan with paper muffin liners. Set aside.

Cream sugar and butter together in a large mixing bowl. Add each large egg and mix until combined.

In a separate large bowl, combine gluten-free flour, salt, baking powder, and baking soda.

Alternate adding the buttermilk and dry ingredients to the butter mixture.

Once everything is combined, add the fresh berries. Fold them into the muffin batter with a wooden spoon or a silicone or rubber spatula (I prefer this one!)

Scoop ¼ cup muffin batter into each muffin liner. Sprinkle with coarse sugar.

Bake in the oven for 6 minutes and then turn the temperature down to 375° and bake for 18 more minutes.

Remove from the oven and let the muffins cool.
Nutrition
Serving:
1
muffin
Calories:
151
kcal
Carbohydrates:
31
g
Protein:
4
g
Fat:
2
g
Saturated Fat:
1
g
Polyunsaturated Fat:
0.3
g
Monounsaturated Fat:
1
g
Trans Fat:
0.003
g
Cholesterol:
29
mg
Sodium:
377
mg
Potassium:
39
mg
Fiber:
3
g
Sugar:
13
g
Vitamin A:
73
IU
Calcium:
103
mg
Iron:
1
mg